Oral cancer is a growing problem in the United States, but one rarely discussed. According to the American Cancer Society, more than 54,000 people have been diagnosed with oral cancer this year. It's a disease that causes nearly 11,000 deaths this year. It's also a disease that can be caught early with proper screening both at home and at your dentist's office.
All this month at Endicott Dental, we will be informing our patients about the importance of checking for mouth cancer at home and screening for it here. Your oral health is important to us, and we want to do all we can to ensure you and your mouth stay healthy!
What Is Oral Cancer?
Oral cancer can be used to refer to both cancer of the mouth and cancer of the throat. Oral cancer most frequently shows up on the tongue, the tonsils or oral pharynx, the gums, or the floor of the mouth. It can also show up on the inner lips and cheeks, as well as other places of the mouth. It often begins as a discoloration or lesion in the mouth or throat before growing to a cancerous tumor or deep lesion.
Oral cancer is caused by a variety of issues, including genetics and human papillomavirus (HPV). Smoking and other tobacco use can significantly increase your risk for oral cancer. The American Cancer Society says that 1 in 60 men and 1 in 140 women will be diagnosed with oral cancer in their lifetimes. While the average age of diagnosis is 63, oral cancer can affect anyone at any age.
There are two types of oral cancers, HPV-positive and HPV-negative cancers. Research has found that cancers behave differently, with HPV-positive cancers tending to react better to treatment that includes chemotherapy, radiation, and/or surgery. Research also shows that getting the HPV vaccine significantly reduces the risk of getting HPV-positive cancer.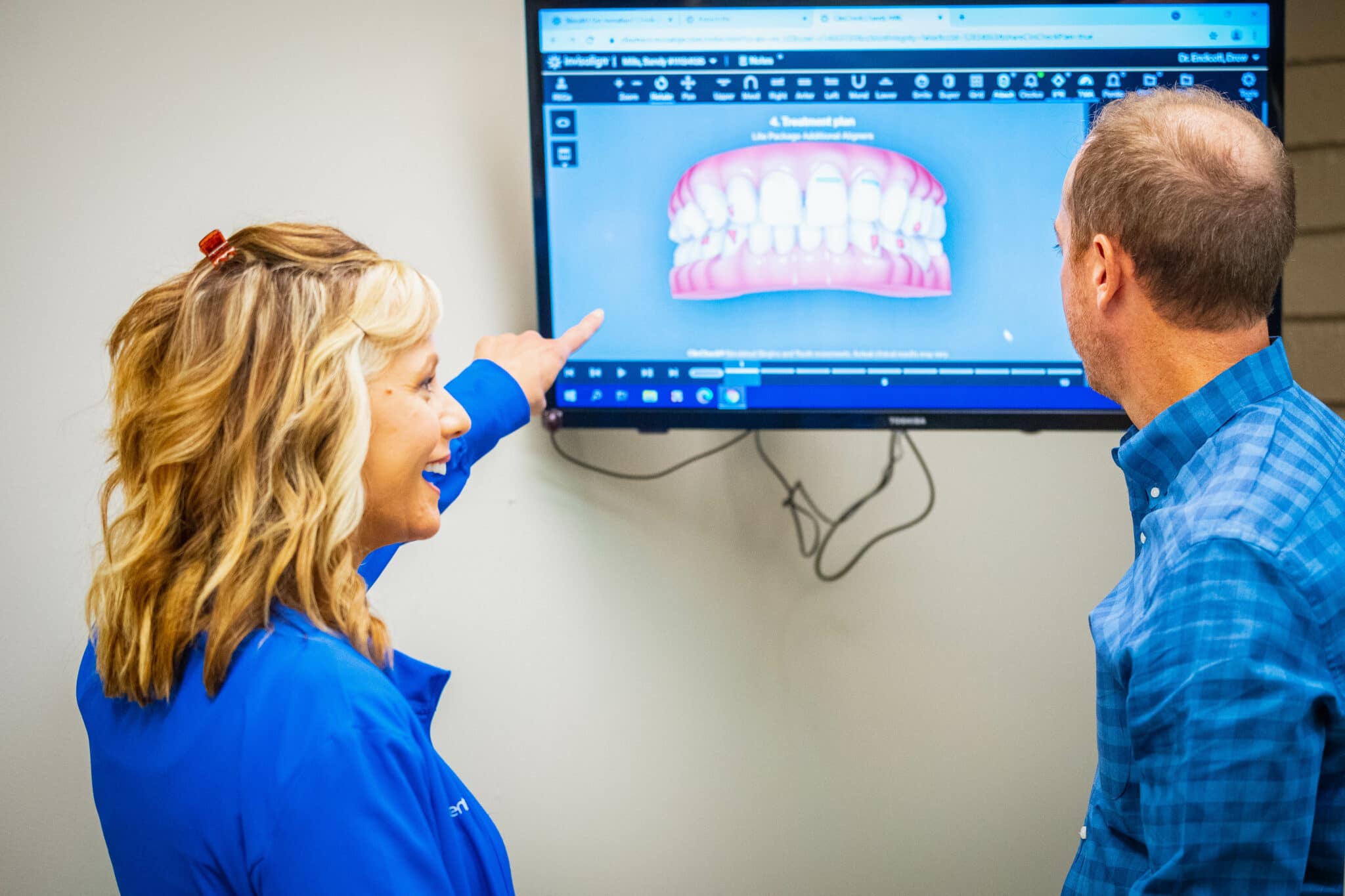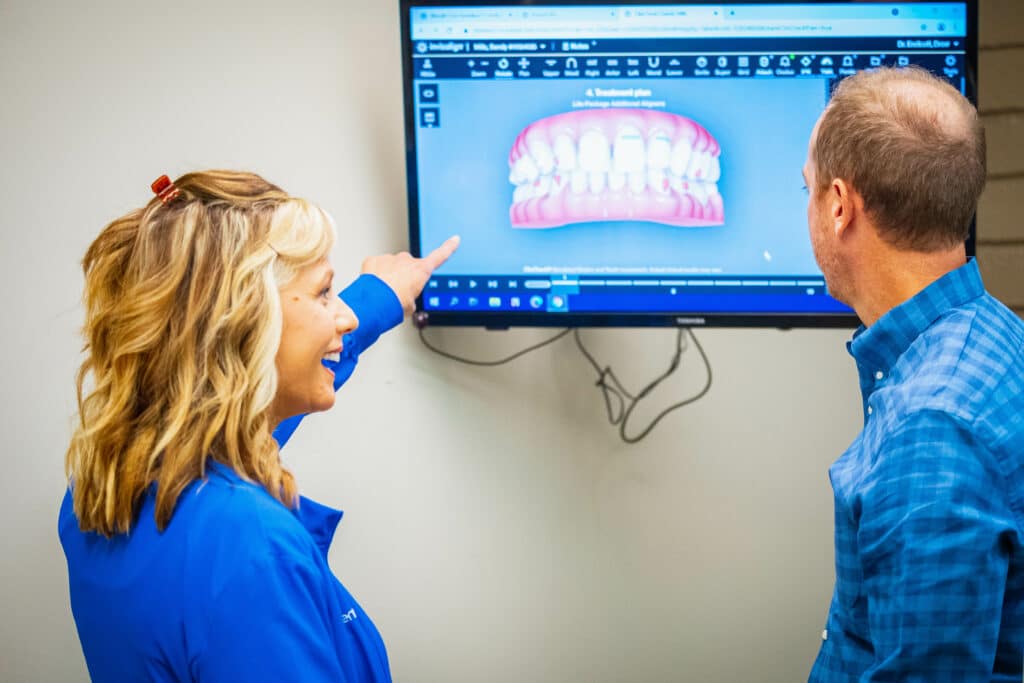 Checking for Oral Cancer at Home
Unlike most cancers, oral cancer is much easier to find at early stages, provided you know what to look for. In most cases, oral cancer begins as a pre-cancerous lesion or discoloration in your mouth or throat. These discolorations show up under or on the tongue, along the gum line, or on the inside of your lips or cheeks.
Signs and symptoms of oral cancer include stiffness or pain in your jaw or tongue, pain or difficulty swallowing, loose teeth, white or red patches, lumps or thickened areas inside the mouth, and sores that don't heal.
You can check for these signs of cancer yourself. You will need is a mirror and a flashlight. Problem spots that could be developing oral cancer will include:
Red spots with sharply defined edges
White spots with sharply defined edges
Lumps or bumps growing out of the tissue that don't disappear
Ulcers or "canker sores" that do not heal within two weeks
To screen for these, use the flashlight or a mounted light. Here's what you need to do to screen for oral cancer at home:
Start by pulling your lower lip down and checking for these signs along the inside of your lip and around your gums.
Pull your upper lip up and out and check the inside and along the gums
Using the flashlight, pull each cheek out with your finger and examine the inside, as well as along the gumline. Feel with your finger for any lumps or bumps.
Lift your tongue and use the flashlight to examine the floor of your mouth, and feel with your finger for any bumps
Stick out your tongue and examine the top, bottom, left and right sides. Feel for any lumps or bumps
Keeping your tongue flat in your mouth, use the flashlight to examine your soft palate and the back of your throat
If you spot anything suspicious, contact Endicott Dental right away. We can set up an appointment to get you in for a more thorough screening. Remember, the sooner you catch a precancerous lesion or even a cancerous lesion, the easier it can be treated, and the better your chances are of survival after cancer treatment.
Oral Cancer Screenings at the Dentist
If you find anything suspicious in your self-check for oral cancer, then you will want to come in for a more detailed oral cancer screening. Screening for oral cancer at the dentist can find lesions you might miss at home. One of the best methods for screening for oral cancer is to use a VELscope. We use this handheld device to better spot any potential precancerous or cancerous areas in your mouth or throat.
The VELscope uses a blue light that makes it easier to see problems that may not be seen as easily with the naked eye. It allows us to spot early signs of cancer. The VELscope is non-invasive and is used strictly for diagnostics. If a dental screening spots potential issues in the earliest stages, those can be far easier to treat and tend to have a better eradication success rate.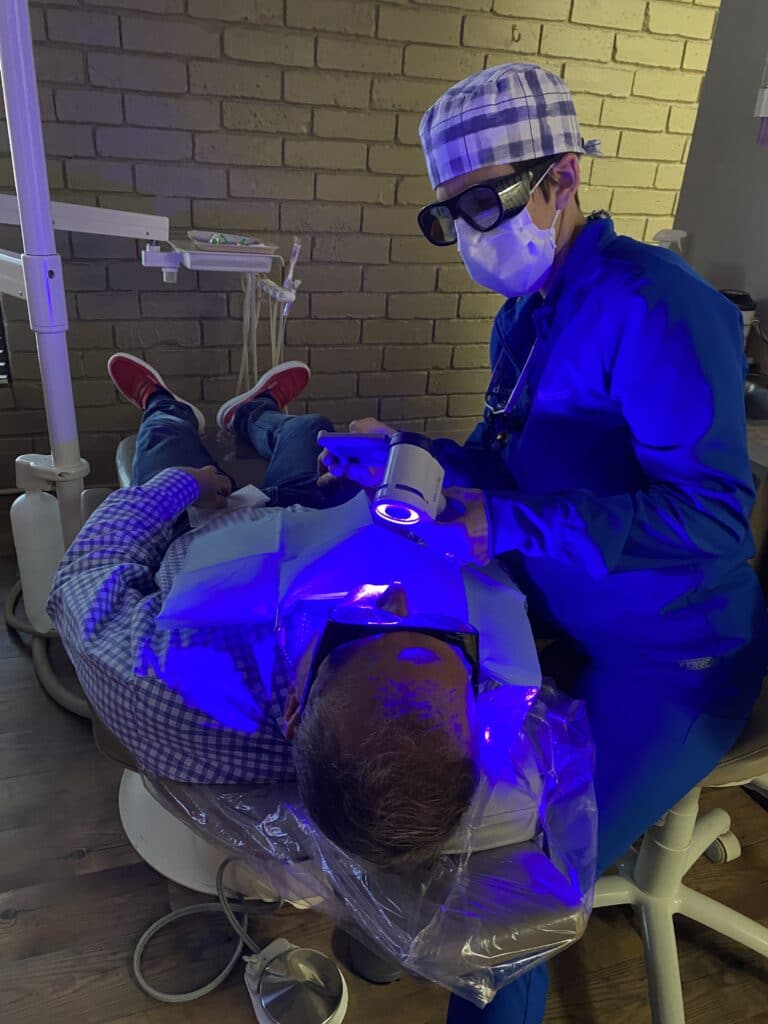 Protect Yourself From Oral Cancer
Examination and screening with the VELscope won't take much time, but it can provide a lot of peace of mind for you and your family. Those under 40 years old need a screening only once every three years, according to official recommendations. Those older than 40 should have a screening once a year. It's a quick and painless procedure that can keep you safe from a deadly disease. We believe it's well worth the time.
If you have any questions about oral cancer or any concerns from a self-examination, give us a call or visit us online to schedule an appointment. We will be happy to answer any questions you may have about oral cancer. At Endicott Dental, we know that your oral health is vital to your overall health, which is why we offer preventive dentistry. Our goal is to keep you safe and healthy through exceptional oral care!